In football, there have been many big clubs in Ghana. But one of the biggest clubs in the country is Asante Kotoko. The Porcupines have produced some of the big footballers and also had a great and remarkable history.
The club has been one of the oldest clubs in the Ghanaian game. Asante Kotoko have produced some legendary players like Baba Yara, Wilberforce Mfum, Ibrahim Sunday, Osei Kofi, Robert Mensah, Stephen Oduro, Kwasi Appiah, Abdul Razak, Malik Jabir, etc.
The Porcupines became the first Ghanaian club to win a continental trophy during the 6th edition of the CAF champions league, then African Cup of Champions Clubs after beating TP Englebert 1-2 in Kinshasa. Abukari Gariba and Malik Jabir scored the goals for Kotoko. And won their second during the 19th edition in 1983 after beating Al Ahly 1-0 courtesy of Opoku Nti's 22nd-minute strike before Hearts of Oak did it in 2000.
Asante Kotoko remains the only Ghana Premier League clubs to have produced African Best Players in history.
Ibrahim Sunday who joined Kotoko in 1966 and won the club's maiden CAF Champions League title as captain before leaving to Werder Bremen in 1975.
While playing for Kotoko, Sunday In 1971 won the prestigious African Ballon d'Or award which is now referred to as the African Best Player Award after beating his Kotoko teammate goalkeeper Robert Mensah and Cameroon's Francois Ndoumbe to become the first Kotoko player to win the award after Salif Keïta had won the maiden edition in 1970.
The second player to have achieved this feat is Abdul Razak (Golden Boy) in 1978 after beating Algeria's Ali Bencheickh and Cameroon's Thomas Nkono for the coveted trophy.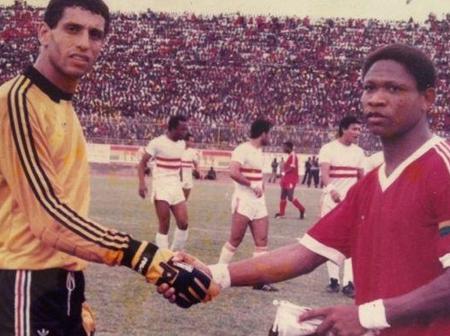 He first joined Kotoko in 1975 and spent four seasons in which he has crowned African Footballer of the Year award in 1978 before moving to New York Cosmos in the United States.
Another Asante Kotoko player who came close to winning the award is Samuel Opoku Nti who came second in 1983 after helping the club win its second Champions League trophy. Egypt's Mahmoud El Khatib beat Opoku to the award.
The African Ballon D'or was presented by French Football Magazine between 1970 to 1994 and had to be discontinued after the current Ballon D'or was opened to players from all continents in 1995.
Abedi Pele won it three years in a row from 1991 to 1993, the Ghanaian player with the most awards.
Few Ghanaian players have come close since, with Samuel Osei Kuffuor twice finishing second and Michael Essien placing second in 2006 and third in 2007.
Source: www.fabulousonline.com